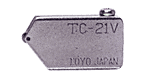 Brass Pencil Grip Straight Straight Cutter

Oil reservoir Brass Handle glass cutter, comes with wider carbide wheel for repeat straight cutting when using an "L" square.

TTC12B               

Pattern Head for pattern cutter

TTC10H

Wide Head-for straight cutter

TTC17H

Pistol Grip Cutter

The updated Pistol-grip has an improved oiling system.  The Sping-controlled lubrication system provedes a smoother oil flow and a more positive shut off.

TTC600PR


Brass Pencil Grip Pattern Cutter

Oil reservoir Brass Handle glass cutter, comes with small narrow carbide wheel for repeat general purpose pattern cutting

TTC10B     


Pencil Acrylic Suppercutter

Oil reservoir Acrylic Handle glass cutter, comes with narrow carbide wheel for pattern cutting

TTC10P      Pattern Blade

Oil reservoir Acrylic Handle glass cutter, comes with wider carbide wheel for repeat straight cutting when using an "L" square

TTC17P      Straight Blade